Willard "Bill" Hinderaker, 94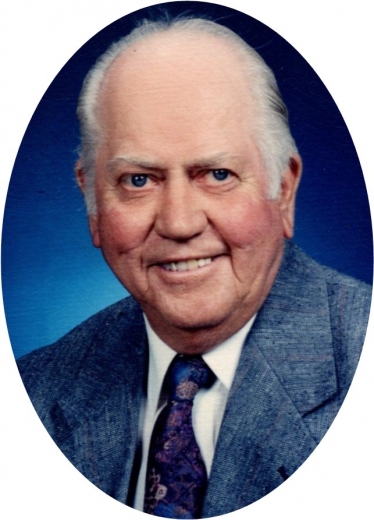 Willard "Bill" Hinderaker, age 94, formerly of Radcliffe, Iowa, passed away on Tuesday, July 28, 2020, at Northridge Village in Ames, Iowa. A flowing visitation will be held from 5 p.m. to 7 p.m. on Friday, July 31, at Our Savior's Lutheran Church in Radcliffe. Funeral services will be held at 10:30 a.m. at Our Savior's Lutheran Church, Aug. 1. Burial will follow in the Radcliffe Cemetery. The wearing of masks is suggested and social distancing guidelines should be respected. In lieu of flowers, memorial contributions may be directed to American Legion Post #317 Building Fund. Boeke Funeral Home of Radcliffe is in charge of arrangements. For more information and online condolences go to: www.boekefuneralhomes.com.
Willard Maynard (Bill) Hinderaker was born to Joseph and Ella (Britson) Hinderaker on Dec. 16, 1925, on the Hinderaker Century Farm north of Radcliffe, Iowa. He attended the Fixen Country School, eventually graduating from Radcliffe High School, class of 1943. Upon graduation, he was enlisted into the United States Army in 1944, becoming and seeing combat as an infantryman in the Luzon, Philippines, campaign during World War II. After Japan's surrender, Bill was assigned to the occupational forces responsible for disarmament and rebuilding, resulting in his promotion to Staff Sergeant. During this time, he earned the Platoon Guide Rifle and Combat Infantry Badges, the Victory, Army of Occupation, and Good Conduct medals, the Asiatic Pacific Theater and Philippine Liberation ribbons, and the Bronze Battle Star.
Willard then returned to the Radcliffe area, eventually settling on the Hinderaker farm, marrying Anna Jane (Bjerkestrand) on Sept. 28, 1949. Throughout the course of his life, Willard became known for his strong family, and for his community involvement. Until 1990, Bill and Anna Jane lived on the farm and raised their five children: Roger, Janice, Dale, Linda and Daniel. They remained heavily involved in the lives of their children's families, caring for their grandchildren and great grandchildren, inviting them to the farm, fishing, and the occasional road trip to visit more distant family.
Bill sat on the Hardin County FmHA (Farmers Home Administration) board, helping farmers transition between generations on their family farms during the 1980s. He also spent time on the Radcliffe School Board and Town Council along with serving the American Legion, including helping build the original Legion Hall in Radcliffe. Bill also took great joy in the achievements of local youth, volunteering to help with 4-H projects for his family and neighborhood, being involved with the Sherman Township 4-H. He was also elected to the Hardin County Extension council. He did all of this while farming and raising his family, occasionally even enjoying fishing on local farm ponds, or from his boat, tucked in the back of his machine shed, on Little Wall Lake or in Minnesota with his friends. During and around these trips, he reminded his family of the fact that "it's a great day to be alive." He also served as the treasurer at Our Savior's Lutheran Church, which he helped build in the 1950s. After retirement from farming, he provided transportation for the Radcliffe Community School System, driving school bus routes, team events, and later individual routes for young people with special needs, many of whom he considered to be his "good friends."
Bill and Anna Jane were married for 70 unforgettable years. Their family includes 5 children, 13 grandchildren and 11 great grandchildren. Children and grandchildren left to cherish his memory are: Roger (Donna) Hinderaker, and their children Heather (Brad) Kiel and April (Bret) Oberbroeckling; Janice (Jim) Kisner, and their son Kensyl; Dale (Kathy) Hinderaker and their children Rochelle (Dan) Goodhue, Clay (Morgan), Luke (Erin), and Todd; Linda (Joel) Brinkmeyer, and their children Brett (Olivia), Joy (Weston) Mitchell, and Brady (Rachel); and Daniel (Diane) Hinderaker, and their children Ryan, David, and Noah. Great-grandchildren include: Vera and Henrick Oberbroeckling (of April and Bret); Bryce and John Goodhue (of Rochelle and Dan); Finnegan, Mila, and Knox Hinderaker (of Clay and Morgan); Logan and Parker Schnurr, and Oliver and Vayda May Hinderaker (of Luke and Erin). He is also survived by 18 nieces and nephews, and many other relatives and friends
Bill was preceded in death by his parents, and all of his siblings and their spouses: brothers Harvey (Thelma), Ernest (Ethel), Kenneth (Laura), LuVerne "Bump" (Jeanne), sisters Loretta (Joe) Male, and Erma (Les) Ullestad.
Willard lived his faith, cherished his family and friends, loved his community involvement, honored his country, lived, and loved well. And he was well loved. Bill made friends with everyone he came into contact with. He passed away peacefully on Tuesday, July 28, at his home at Northridge Village in Ames, Iowa, with family at his side. Blessed be the life and memory of Willard Maynard Hinderaker.
Visit Boeke Funeral Home by clicking here.
Category:
Mid-America Publishing
This newspaper is part of the Mid-America Publishing Family. Please visit www.midampublishing.com for more information.