Robert "Bob" Prosser, 106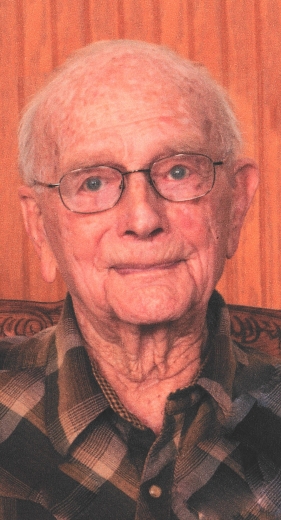 Robert "Bob" Prosser, 106 of Conrad, Iowa, passed away Tuesday, July 28, 2020, at Oakview Nursing Home in Conrad. Funeral services will be at 2:30 p.m., Saturday, Aug. 1, 2020, at the Conrad United Methodist Church in Conrad. Visitation will be 1 p.m. until the time of the services at the church. Memorials may be directed to the Salvation Army. Anderson Funeral Homes of Conrad has been entrusted with arrangements. Online condolences may be sent to www.andersonfhs.com.
Robert was born in Cleveland County, Okla., on March 3, 1914, to Harry E. and Alice B. (Hogle) Prosser. He attended schools in Ferry, Mich., and Marshalltown, Iowa. On Nov. 15, 1932, he was united in marriage to Mary M. Higar at the Ivester Church parsonage, rural Grundy County.
Robert made a career of farming, first as a hired hand, then a tenant farmer, and finally as a land owner in the Eldora, Wellsburg and Conrad areas, living near Conrad since 1960. He was a member of the Conrad United Methodist Church, where he served in the church choir and as trustee. He was also a member of the Conrad Lion's Club, Farm Bureau and Antique Car Restorers Club. He and wife Mary received the Governor's Volunteer Service Award in 2006 and he published his memoirs in 2007. Robert was a great supporter of his family and enjoyed farming, flying airplanes, the outdoors, and restoring and entering his antique Ford Model A and Model T automobiles in parades and car shows.
He is survived by sons Rev. Larry (Sherrel) Prosser of Corydon, Iowa and Phillip (Mary) Prosser of Eldora, Iowa and daughter Diane (Phillip) Heim of Conrad; 13 grandchildren, Victoria (Rev. Randy) Miller, Nancy (Doug) Fee, Debra (Scott) Huyser, Clark (Sharon) Kelley, Gail (John) Maher, Blake (Ashley) Prosser, Penny (Vern) Boenish, Lynn Meisel, Andrew (Kendra) Prosser, Gretchen (Marc) Olson, Olga Heim, Ingrid Heim, 32 great-grandchildren, and 38 great-great-grandchildren and several nieces and nephews.
He was preceded in death by Mary, his wife of 78 years, grandsons Steve (Donna) Prosser and John Prosser, great-grandson Tyler Fee, brothers Cecil and Clifford Prosser, sister Gladys Brillhart, half brothers Herbert and Hubert Prosser.
Visit Anderson Funeral Homes by clicking here.
Category:
Mid-America Publishing
This newspaper is part of the Mid-America Publishing Family. Please visit www.midampublishing.com for more information.