Richard Talbot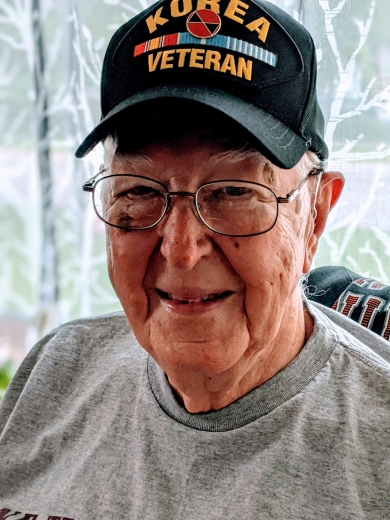 Richard Talbot, 91, died on Saturday, Sept. 25, 2021, at his home in Eldora, Iowa. A memorial service was held at 10 a.m. on Friday, Oct. 1, at the Honey Creek New Providence Friends Church. Interment followed at the Honey Creek Cemetery rural New Providence. Richard "Dick" Charles Talbot was born July 11, 1930, in Grand Island, Neb., to Charles and Hannah Talbot. A graduate of Grand Island High School, Neb., in 1948, Dick served in the United States Army from September 1950 to September 1953 as a First Sergeant during the Korean War.
Richard was married to Ardith Ann Snell for 59 years and from their union were born Richard Daryl Talbot and Edward Charles Talbot, and later Robert Charles Talbot was added to the family. Richard worked for Williams Brothers Pipeline in Nebraska, and a transfer brought the family to Iowa. In Iowa he was primarily a grain elevator manager, working in New Providence, Southerland, Portland, and Slater, Iowa. In 1985, Dick and Ardith moved to Indiana to serve in the ministry of Friends United Meeting. Retired in 1996, Dick and Ardith enjoyed several years wintering in Tucson, Ariz., to spend time with family. The rest of the year he drove Ardith to and from 200+ speaking engagements per year. In 2008 Dick and Ardith moved to Eldora, Iowa to be close to family.
Dick was preceded in death by his parents Charles and Hannah Talbot, son Edward Talbot, and wife Ardith Ann Talbot. He is survived by brother Tom Talbot; children Richard (Darlene) Talbot and Robert (Jennifer) Talbot; grandchildren include Caitlin (Kentaro) Yamamoto, Cayla (Bryson) Maxwell, Heather Talbot (Richard Erickson), Daniel Talbot (fiancée Hope Carlson), Holly Talbot, Thomas Talbot, Matthew Talbot, Joseph Talbot, Arielle (Zane) Lindley, and Max (Danika) Kerr. He was blessed with four great-grandchildren. He will be greatly missed by his family and his dearest friend Jane Whitehead, of New Providence, Iowa.
Dick will be remembered by his family and friends as a man who loved Jesus and his family. He was always optimistic and hopeful, enjoying every single day. He attended as many events to support grandchildren as possible, and enjoyed traveling the world as a soldier and for Friends United Meeting. Even at age 91, Dick was still planning day trips with whoever wanted to ride along with Jane and him.
Memorial contributions may be directed to the Talbot Donor Advised Fund, P.O. Box 8, New Providence, Iowa 50206
For more information and online condolences go to: www.boekefuneralhomes.com. Boeke Funeral Home of Hubbard is in charge of arrangements.
Category:
Mid-America Publishing
This newspaper is part of the Mid-America Publishing Family. Please visit www.midampublishing.com for more information.