Paul Douglas Thomas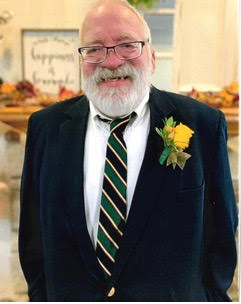 Paul Douglas Thomas, 66, of Eldora, Iowa, passed away Saturday, Sept. 11, 2021, at Legacy Cottage, Creekside, Grundy Center, Iowa. Services for Paul Thomas will be held at a later date. The Linn's Funeral Home is assisting the family with arrangements. Memorials may be directed to the family: Paul Thomas ℅ Linn's Funeral Home 1521 Washington Ave., Iowa Falls, Iowa 50126.
Paul Douglas Thomas was born Feb. 22, 1955, at Clinton, Iowa, to Marvin Llewellyn and Marjorie Emma (Mayer) Thomas. Paul graduated with the class of 1973 from Camanche High School. Paul participated in 4-H, high school wrestling, and football. Paul also helped his father on the farm. He attended Mount St. Clare College and the University of Wisconsin-Platteville where he received a Bachelor of Agricultural Business degree. Paul was united in marriage to Linda (Kurth) Helmly on Dec. 5, 1986. Paul and his wife were self-employed and are owners and proprietors of Pine Lake Foams Inc. and Prairie Wind Books. Paul was a member of the Ivester Church of the Brethren where he served on many committees, also was a member of MENSA. He was a former Boy Scout Master of Troop 334.
Paul Thomas is survived by his wife: Linda Thomas of Eldora, Iowa; his sons: Jacob (Maude) Thomas of Gothenburg, Sweden; Jeff (Lynn) Helmly of Jacksonville, Fla.: Andrew Helmly of Jacksonville, Fla.: Zach Thomas of Holland, Iowa; three grandchildren: Aethel Guichard-Thomas; Briac Guichard-Thomas; Andi Lynn Helmly; two brothers: Dr. David (Sheryl) Thomas of Ames, Iowa; John (Merydith) Thomas of Camanche, Iowa; one sister: Jane (Bob) Harding of Clinton, Iowa; and many nieces and nephews.
Paul was preceded in death by his parents: Marvin and Marjorie Thomas; and his parents in-law: Warren and Ritta Kurth.
Category:
Mid-America Publishing
This newspaper is part of the Mid-America Publishing Family. Please visit www.midampublishing.com for more information.