Joan VanDornum, 87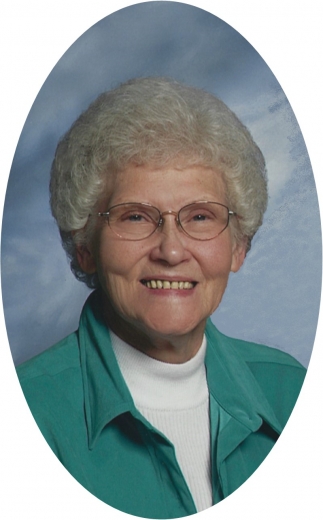 Joan VanDornum, 87, of Hubbard, Iowa, passed away on Wednesday, Sept. 9, 2020, at Mercy Medical Center in Des Moines, Iowa. A graveside service was held at the Hubbard Cemetery at 2 p.m. Saturday, Sept. 12. The family requested that masks be worn and social distancing guidelines be respected. In lieu of flowers, memorial contributions may be made to Hubbard Swimming Pool Fund or the Hubbard Library. Boeke Funeral Home of Hubbard was in charge of arrangements. For more information and online condolences go to: www.boekefuneralhomes.com.
On Feb. 12, 1933, Joan was born to Will E. and Helen L. (Brunemeier) Lehmeier on the same farm she called home for over 60 years. She was baptized and confirmed in the E.U.B. Church in Hubbard. She received her education by attending Country School Grant #8 and Hubbard High School, class of 1950.
On March 25, 1953, Joan was united in marriage to Russell VanDornum of Steamboat Rock in the E.U.B Church by the Rev. Kruetzmann.
Farming was her life. Working alongside Russell on the Lehmeier farm was all she wanted to do. She was not one for fancy vacations, but family trips to Minnesota with friends brought many wonderful memories.
Her faith and church were very important to Joan. She taught Sunday school for many years, was on the funeral committee, and loved to volunteer at Bidwill in Des Moines.
As a family, we were very fortunate to have the guidance through life of Christian parents.
Preceding her in death were her parents, Will and Helen Lehmeier, husband Russell, brothers Gene and Baby Lehmeier, sister Janice Hodnefield, and nephew Douglas Frerichs.
Left to mourn her passing are daughters Cheryl (David) Duncan of Hubbard and Kathy (Curt) Alexander of Estero, Fla. Grandchildren Angie (Tyler) Rodgers, Jared (Marie) Neubauer, Abby (Nate) Burden, Aric (Alissa) Alexander, step-grandchildren Jay (Sara) Duncan and Angie (Scott) Duncan. Great-grandchildren Jaxon and Brynn Neubauer, Ganon, Myar, and Gradon Rodgers, Dylan, Ryker, and Tessa Burden, Abel and Avalynn Alexander. Nephew Dan Hodnefield and nieces Diane Rash and Linda Weise.
Visit Boeke Funeral Home by clicking here.
Category:
Mid-America Publishing
This newspaper is part of the Mid-America Publishing Family. Please visit www.midampublishing.com for more information.