Ardith Marilyn Donaldson, 85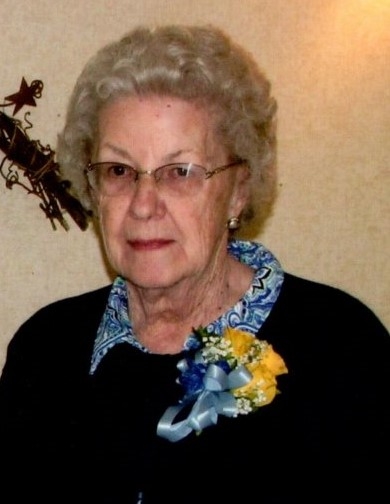 Ardith Marilyn Donaldson, 85, of Union, passed away on Sunday, July 12, 2020, at Oakview Nursing Home in Conrad. Funeral services for Ardith will be held at 10:30 a.m. Thursday, July 16, 2020, at Union Church of Christ in Union, Iowa. Visitation will be from 5 p.m. until 7 p.m. on Wednesday, July 15, 2020, at the Mitchell Family Funeral Home in Marshalltown. Memorials may be directed to the family. For more information or to send a condolence, please visit www.mitchellfh.com or call 641-844-1234. Mitchell Family Funeral Home is caring for Ardith and her family.
Ardith Pevehouse was born on Jan. 9, 1935, on the family farm in Union to Roy and Mamie (Goehring) Pevehouse. She graduated from Union High School in 1953, and then went on to attend junior college for one year. On March 30, 1956, Ardith was united in marriage to her high school sweetheart, James Donaldson. She had an in-home daycare where she had numerous kids. She called them her "borrowed kids" and all of them called her "Ardie." Ardith was a member of the Union Church of Christ, where she also taught Sunday school, played the piano and sang in the choir. She crocheted over 100 afghans for the VFW for the veterans. She also enjoyed baking and was known for her sugar cookies and chocolate macaroons.
Ardith is survived by her husband of 64 years, James. Children: Steven (Alma) Donaldson of Eldora, Michael (Jo) Donaldson of Union and Roy (Mona) Donaldson of Neiderwald, Texas. Grandchildren: Stephanie (Travis) Case, Cody (Stephanie) Donaldson, Blaire (Chelsea) Donaldson, Alan (Monica) Donaldson, Chris (Perin) Donaldson, Tomas (Kelsey) Donaldson, Roy Donaldson Jr. and Mariah (Cody) Ellis. She is also survived by 15 great-grandchildren and numerous nieces and nephews.
Ardith is preceded in death by her parents, her brother Francis Pevehouse and her sister and brother-in-law Naomi and LJ Holveck.
Visit Mitchell Family Funeral Home in Marshalltown by clicking here.
Category:
Mid-America Publishing
This newspaper is part of the Mid-America Publishing Family. Please visit www.midampublishing.com for more information.