Alexis Marie Balvanz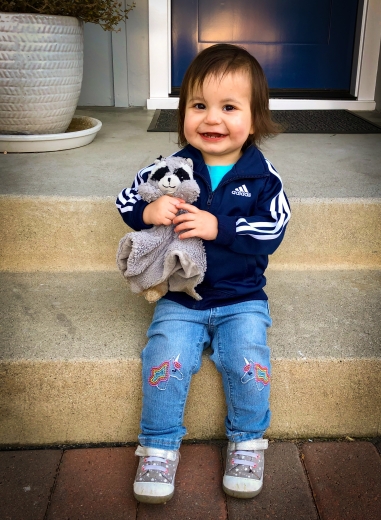 Alexis Marie Balvanz was born on Aug. 1, 2018, in Los Angeles, Calif. She immediately brought joy and love to her parents, Lisa and Steven Balvanz, and to her big brother, Nixon. She died unexpectedly at home in Los Angeles, on March 2, 2020, breaking the hearts of her immediate and extended family, and friends.
During her short time on earth, she fell in love with life, and her joy was infectious to be around. Her deep, hearty laugh brought smiles and laughter to everyone within earshot. An avid hugger, Alex approached people and emphatically threw her arms into the air. During the embrace, she would rest her head down and give you a sweet pat on the back.
Alex adored her big brother Nixon, who taught her some of her favorite things, including how to make mud soup in the backyard, jump in puddles, and find the neighborhood cats. Together, they explored the neighborhood, with Alex shrieking in joy when she saw a dog, or found a bug. She loved all animals, especially her cat Leo, and her friend's Goldendoodle, Nala. Alex's favorite show was "Spirit: Riding Free," about a young girl and her horse, and she was excited to meet real horses for the first time during an upcoming trip to her family's farm in Iowa.
Alex was a good traveler, flying on several occasions to visit family throughout California and Iowa. Her favorite vacations were to celebrate Nixon's fourth birthday at Disneyland and a family trip to Hawaii, where she discovered her fascination with waterfalls. Alex loved to have books read to her. Her favorite books were Pat the Bunny, Where is Baby's Belly Button, Fifteen Animals, and Where's Spot?
Observing her happy inquisitiveness was a lesson for everyone young and old: smell the flowers, jump in the puddles, watch a bug closely, and let the balloon float away into the sky.
Alex is survived by her parents and brother; grandparents Mike and Audrey Moshfegh of San Jose, Calif.; and grandparents Steve and Kathy Balvanz of Eldora, Iowa. She has three great grandparents, many aunts, uncles, and first cousins in California and Iowa, with many more relatives and friends throughout the country.
Although we are devastated with Alex's sudden and unexpected passing, we believe that we all inherited the years she does not get to live. Those years are a precious legacy from her to us and we ask all of our family and friends to enjoy those years along with your own, and feel Alex's presence as you do so.
In lieu of flowers, please consider a donation to the Sudden Unexplained Death in Childhood Foundation. Not only do they offer resources for families suffering an unexplained loss, but they advocate for research to try to find an explanation and prevent future occurrences.
Category:
Mid-America Publishing
This newspaper is part of the Mid-America Publishing Family. Please visit www.midampublishing.com for more information.