Shirley Wagner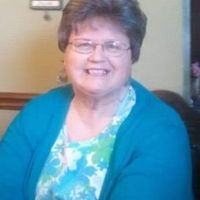 Shirley Wagner, age 82, of Marshalltown, was called to her heavenly home on the morning of Monday, Jan. 9, at the Iowa Methodist Medical Center in Des Moines with her family at her side.
Born on Feb. 10, 1940, she was the daughter of Donald and Effie Ellen (Wiles) Matthews. Her family moved from Minnesota to Cedar Falls and then Eldora, Iowa, where she graduated in 1958.
A few years later, she met this handsome young man, Kenneth Wagner, and the two were married in Eldora on May 17, 1963, at precisely 7 p.m. (before the officiant could go fishing!). They made their home in Eldora, rural Eldora, Beaman and later Marshalltown. Shirley was activities director for Oakview in Conrad and later she and Kenneth ran cleaning service and woodworking business together.
Her heart was full for her family and the Lord. She enjoyed puzzles, crosswords and spelling bees along with reading. She taught Sunday school at the Assembly of God in Conrad and enjoyed listening to George Strait and Christian music.
Left to cherish her memory are Kenneth, her loving husband of nearly 60 years; her favorite son David (Lisa) Wagner of Prairie City and her favorite daughter Lori (Mark) Harsha of Marshalltown; her grandchildren Rachel and Benjamin Wagner and James (Sarah) Harsha as well as other family and friends.
In eternal life, she rejoined her parents, brother Leslie and sister, Marsha Campbell.
Per her wishes, no formal services will be held. Memorials may be directed to her family. The Mitchell Family Funeral Home is caring for Shirley and her family.
Category:
Mid-America Publishing
This newspaper is part of the Mid-America Publishing Family. Please visit www.midampublishing.com for more information.