Sharon Lea (Anderson) Appel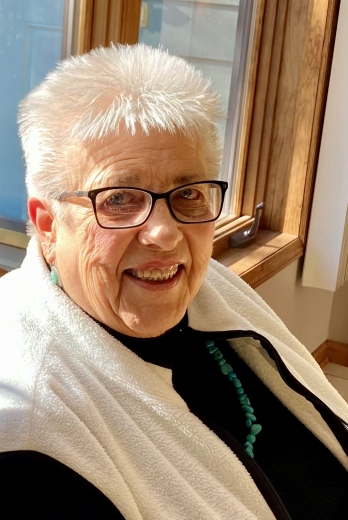 Sharon Lea (Anderson) Appel, 87, of Des Moines, Iowa, formerly of Eldora, passed away on Saturday, March 4, 2023 in Des Moines. Visitation was held from 5 p.m. -7 p.m. Tuesday, March 7 at the Abels Funeral and Cremation Service, Creps Chapel in Eldora. A funeral service was held at 11 a.m. Wednesday, March 8, at St. Paul Lutheran Church in Eldora. Burial will be held privately at a later date. Memorials may be directed to the family.
Sharon Lea (Anderson) Appel, the only child of Lyle and Myrtle (Beauvais) Anderson,
was born on Nov. 25, 1935, at her grandparents' Marathon, Iowa farm house. She left her earthly home on March 4, 2023 in Des Moines, Iowa.
Sharon attended school at Webb, Iowa, graduating in 1953. Her class was the first kindergarten class in the district. She attended business school and worked as a secretary and copy writer for several businesses. She never did forget how to take dictation in shorthand!
She married Ingvert Appel on Aug. 25, 1956, at the Methodist Church in Marathon, Iowa. To this union three children were born, Kathleen, Steven, and Richard.
Ingvert was a teacher and school administrator in several districts in Iowa: Ute, Sloan, Alta, Scranton, and Eldora. Sharon made sure each move felt like home and her children followed her lead in making friends and embracing a new community with confidence and a sense of humor…always!
Sharon was an avid reader her entire life. She instilled in all of her children a love for singing, and some of our earliest memories include singing in the car, while doing dishes, and standing side by side in church. She had a thing for big bright bracelets and watches to match every outfit. She was a creature of habit, lists, schedules and a glass of wine at 5! Community and church were so very important to both Sharon and Ingvert in every town they called home, and Sharon had bridge playing friends in all of them! She and Ingvert loved their summer cabin at Blackhawk Lake, especially if filled with grandkids going fishing with Papa. She raised a family who understood the importance of friends and laughter and happy hour! She loved all team sports, and cut out the TV schedule each week so she wouldn't miss her favorites. We were never surprised that she knew each and every player and their back story, stats and latest game saving win!
Ingvert retired in 1994 after over 38 years of service. They continued to live in Eldora and loved to travel, taking many trips abroad and across the country--often with dear friends, which made it even more memorable. In April of 2017 she and Ingvert moved to Des Moines to be near family, as Ingvert's health declined. In July of that year, he passed away.
Sharon loved her friends and life at Grand Suites—playing cards, of course, and all the activities offered. As in all of the moves she had made over the years, this one did not disappoint, with new friends made, family close by and great grandchildren including her in their daily escapades and milestones! One project that we now treasure was a book created from a lifetime of memories and photos. Sharon had the best memory and could remember names and dates better than anyone we knew. Knowing her history is our history has been a special story to tell. Our mom lived a full life in so many places and with so many special friends, all the while making a safe place for us to grow up, and showing us how to live as strong, caring, fun loving, confident people…resilient to any change in address or circumstance. I'm afraid there isn't a wallflower in the bunch…and we thank her for that. Her love of family and community has made its mark and it has been one of the mainstays of our family… and now it is being witnessed in our own children and their families. That is a legacy.
As her family, we were the lucky ones, loved by the best. She and Dad showed us how to love so that we could confidently say there are "no regrets", nothing left unsaid, no hurts to mend. Say I love you, hug often, laugh even more. We have witnessed the truth of this statement: The secret to having it all, is knowing you already do…family. We know today's goodbye is temporary as we cling to the sure and certain hope of the resurrection…with arms wide open.
Sharon is survived by daughter, Kathy (Tom) Taggart, Waukee, IA, son Steve (Deanna) Appel, Blair, NE, son Rich (Tammy) Appel, Horicon, WI. Grandchildren: Cole (Anna) Taggart, Chase (Trisha) Taggart, Marissa (Christian Jewett) Appel, Dane (Bailie) Appel, Jordan Appel, and Stephanie Appel. She was also greatly loved by six great grandchildren, Reese, Bennett, & Finn Taggart; Paxton & Kenzie Taggart; and Crew Appel. She is also survived by her sisters in law, Audrey Appel and Bette Appel, as well as cousins, nieces and nephews. She was preceded in death by her parents, her husband of 61 years, and by her brothers in law Henry, Hans, Einer and Paul Appel, sisters in law Gwenna Appel, and Zona Appel, her dear friend who introduced her to the love of her life, Ingvert.
Category:
Mid-America Publishing
This newspaper is part of the Mid-America Publishing Family. Please visit www.midampublishing.com for more information.