Olive Herbrechtsmeier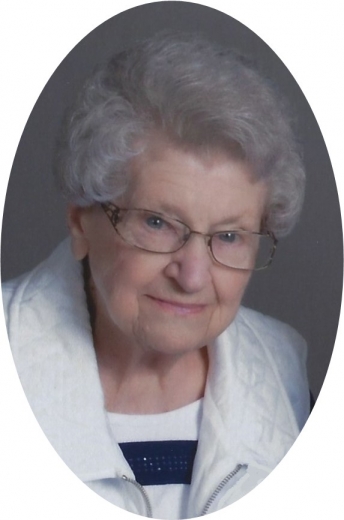 Olive Herbrechtsmeier, 97, of Garden City, Iowa, passed away on Saturday, Oct. 30, 2021, at Mary Greeley Medical Center in Ames, Iowa.
Visitation will be held 6 p.m. to 8 p.m. Monday, Nov. 1 at Boeke Funeral Home, 501 E. Maple St., Hubbard, Iowa. Funeral services will be held at 10:30 a.m. Tuesday, Nov. 2 at St. John's Evangelical Lutheran Church, Hubbard, Iowa. Burial will be in the Hubbard Cemetery.
Online condolences can be given at www.boekefuneralhomes.com. Boeke Funeral Home of Hubbard is caring for Olive and her family.
Olive L. (Nessa) Herbrechtsmeier was born on May 29, 1924, at home in Garden City above the family store. She was one of six children born to Nels and Anna (Harestad) Nessa. She went to grade school in Garden City and graduated from the Radcliffe High School in 1941. After graduation, she worked for her dad in his store in Garden City.
Olive met Harry G. Herbrechtsmeier on a blind date and they were married on Jan. 31, 1950, at the Lutheran Church Parsonage in Radcliffe. From this marriage, they had a son, Paul and two daughters Nancy and Susan.
Olive worked on the farm with Harry for many years. She also worked in Garden City at her family's hardware and locker. For many years, Olive, Harry and the kids spent one-week vacations at a resort on Big Sandy Lake in Minnesota. Many wonderful memories were made with family and friends. In 2012, they purchased a lake home on Big Sandy Lake and more time was able to be spent at the lake with more memories made with family and friends.
Olive enjoyed spending time with family, doing word puzzle books, cooking and baking. Everybody especially loved her Kringla. She was a member of St. John's Lutheran Church in Hubbard. Olive passed away on Saturday, Oct. 30, 2021, at the Mary Greeley Medical Center in Ames, Iowa.
Those remaining to cherish her memory include her son Paul of rural Garden City and daughter Nancy of Urbandale; brother and sister-in-law Duane "Duke" and Janet Nessa; sister-in-law Marge Nessa; and with many nieces, nephews and cousins.
She was preceded in death by her parents; husband Harry; one daughter Susan; three brothers Meline, Arlen and Norman "Mick" Nessa; and an infant sister Anna Margaret Nessa.
Category:
Mid-America Publishing
This newspaper is part of the Mid-America Publishing Family. Please visit www.midampublishing.com for more information.