Mary Lynne Eckhart (Lynne)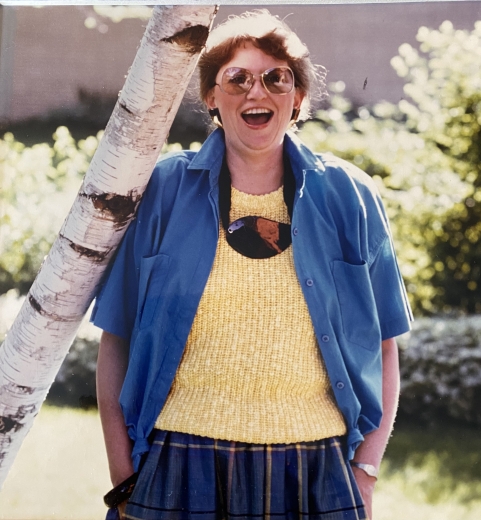 Mary Lynne Eckhart (Lynne) was born in Fort Dodge, Iowa, to Obert LeRoy and Mary Lou Larson. She grew up in Eagle Grove, Iowa, and attended the University of Northern Iowa. Upon graduation she is reported to have spent an "educational" summer in the San Francisco area before returning to Williamsburg, Iowa, to work. While in Williamsburg she met future husband Lloyd John Eckhart. John and Lynne married on June 8, 1969, and walked together until John passed in January 2018. They spent the early years of their marriage in Iowa City, where Lynne worked as a teacher of young minds and also ensured that John completed his extended college career, after which he gained employment at Mercy Hospital in Mason City.
During their many years in Mason City, Lynne and John raised two children, Erika Jane and Karl John. Lynne worked as a substitute teacher before joining the regular faculty of Mason City High School, where she taught students the joy of literature, poetry, and language. She coached a state championship level mock trial team and also participated in local theater. She volunteered regularly for the Cerro Gordo County Democratic Party; as Chairwoman she inaugurated the still popular "Wing Ding" candidate event.
Lynne was also an avid traveler and reader. Her beloved Book Group was an integral part of her life for decades. (Erika and Karl still wonder if books ever were discussed.) Mason City lost a pillar of the community when Lynne and John moved to Rochester, Minn., where John pursued work at the Mayo Clinic. Erika and her children, Julian and Tallula, made many trips to Rochester from their home in Grundy Center, Iowa, to enjoy the city with Pappa and Granny.
In due time Lynne and John relocated to Grundy Center, where Lynne enjoyed learning the art of mosaics, spending more time with her grandkids, and driving her convertible with the top down at high speeds all over the countryside. Unfortunately, her final years were cursed by Alzheimer's disease, and she was not able to drive life in her chosen directions. Seemingly on her own schedule she passed in peace; but she, who could not let a silent moment survive, is no doubt voicing her opinion in colorful language to those in Heaven. Her family is grateful to the amazing caregivers at Creekside Nursing Home for all their care and love to Lynne.
In addition to much loved nieces and nephews, cousins and dear friends, Lynne is survived by her daughter Erika Eckhart Lamp (Bob McIntire), and son Karl Eckhart (Lisa); grandchildren Julian and Tallula Lamp; her brother John Larson (Sue); sisters-in-law Susan Schafer and Sharon Grimm, along with their families. She is preceded in death by her husband and her parents.
Public visitation for Lynne will be held from 5 p.m. to 7 p.m. on Wednesday, Nov. 24, 2021 at the Engelkes Abels Funeral Home located at 509 Fourth St., Grundy Center, Iowa 50638. Public graveside services will be held at 1 p.m Friday, Nov. 26, 2021, at St. Paul Lutheran Cemetery, located in Williamsburg, Iowa. Memorial contributions may be directed in Lynne's name to her family, which will be later designated elsewhere. For further information or to leave an online condolence, please visit www.abeslfuneralhomes.com. Engelkes Abels Funeral Home is caring for Lynne and her family.
Category:
Mid-America Publishing
This newspaper is part of the Mid-America Publishing Family. Please visit www.midampublishing.com for more information.