Gary Walters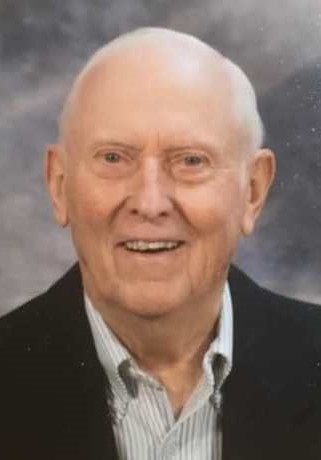 Gary Walters, age 84, of rural Eldora, entered into Heaven's glory, on the night of Sunday, March 28, at the Iowa Methodist Medical Center in Des Moines, Iowa.
Funeral services in honor of Gary and of the Christian faith were held at 10:30 a.m. Saturday, April 3, at the St. Paul Lutheran Church in Eldora with Rev. Aaron Hambleton officiating. He was laid to rest in the Eldora City Cemetery. Visitation was held at the church, 1105 Washington St., Eldora, 5 to 7 p.m. Friday, April 2. Memorials may be directed to the family. His services are available to watch at https://www.facebook.com/Mitchell-Family-Funeral-Home-99280714047/. The Mitchell Family Funeral Home in Marshalltown is caring for Gary and his family. Ph. 641-844-1234.
Born on the family farm northeast of Eldora, Iowa, on Feb. 1, 1937, Gary was the son of Charles and Anna (Daleske) Walters. He attended the Eldora Township #1 country school and graduated from the Eldora High School. He excelled in football and was eyed by the University of Iowa to play football for the Hawkeyes. Unfortunately, Gary had an accident causing multiple fractures in his wrist and his football career was thwarted. He still proudly graduated from the University of Iowa with a degree in business management/marketing.
On Nov. 19, 1966, he was united in marriage to the love of his life, Ruth (Chrisman) Jeske, a young widow and her two beautiful children. Gary took on many roles in his life - former state training school of Iowa employee, farmer, businessman, community supporter, staunch Republican, soil conservationist and supporter of the Hawkeyes. But the most important role in his heart that he took was being dad/grandpa and great-grandpa - AKA "Grandpa Gary." He dearly loved his family.
It was a good day for Gary if he could fish or cut up fish at the Pine Lake Wildlife Club, hosting and visiting with the "Rowdies" (high school classmates), crafting with his woodworking equipment, socializing with his coffee groups and the Monday morning breakfasts in New Providence, helping with Mark and Travis' Boy Scouting activities and listening to Dawn play the piano. He would give a simple word of approval – "Beautiful." Days relaxing at the home they built and their private lake (Pleasant Lake) were priceless.
Left to cherish his memory are his daughter – Dawn (the late Rocky) Fratzke of Jesup, Iowa; daughter-in-law Deb (the late Mark) Jeske of New Providence; grandchildren and their families - Jenna (Seph) Amling (J.R. and Jamisyn) of Cedar Falls, Iowa, Travis and Branigan Jeske (Jensen and Walter) of New Providence, Kayla Fratzke (Hunter) of Jesup (Jericho); his brother Bill (Sandra) Walters of Marshalltown; sister-in-law Barbara Walters of Storm Lake, Iowa; and a number of nieces, nephews, cousins and friends.
In death, Gary rejoined his beloved Ruth, son Mark, son-in-law Rocky Fratzke, his parents Charles and Anna; brothers Ronald, Marvin (Jean) Walters, and Bob (Faithe) Walters; sisters- Dorothy (George) Goschke and Lucille Harrington; brother-in-law Al Chrisman; and sisters-in-law Pat Walters and Bess Chrisman.
Visit Mitchell Family Funeral Home by clicking here
Category:
Mid-America Publishing
This newspaper is part of the Mid-America Publishing Family. Please visit www.midampublishing.com for more information.