Florence Fisher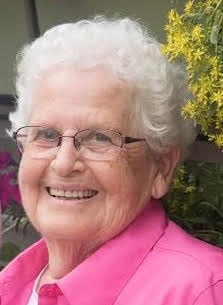 Florence Fisher, 83, of Marshalltown, passed away on Tuesday, March 1, 2022, at her home.
Memorial services for Florence will be held at 10 a.m. Saturday, March 5, 2022, at Elim Lutheran Church in Marshalltown. Visitation will be held from 5:30 p.m. to 7:30 p.m. Friday, March 4 also at Elim Lutheran Church. For more information or to send a condolence, please visit www.mitchellfh.com or call 641-844-1234. Mitchell Family Funeral Home is caring for Florence and her family.
Florence Mable Turner was born on May 8, 1938, in rural Butler County, Iowa, to James Leslie and Frances Mabel Medders Turner. She graduated from Plainfield High School and then attended Iowa State Teachers College (now University of Northern Iowa) where she met her husband, Richard, a love that lasted a lifetime. Flo was united in marriage to Richard Fisher on June 28, 1958. Flo loved her family and the family activities and gatherings, and the family fishing vacations. She felt that grandchildren and great-grandchildren were the great rewards in life. Flo enjoyed cooking and baking, sewing, fabric art, quilting, making church banners, gardening, spending time walking Bo, and the time spent at the dog park with her friends and their dogs. Flo loved flowers and thought it was important to plant many so others could enjoy them also. She felt it important to "brighten the corner where you are but not with peace lilies."
Flo is survived by four children: Brenda (James) Ellefson of Marshalltown, Greg (Phyllis) Fisher of Ames, Annie Maria Fisher of Eldora, and Timothy (Suzanne) of Van Meter; and foster mom to three children: Diane Schmeling Beisner and Rodney and Steven Abbas. She is also survived by seven grandchildren: Sarah Groth (Jacob), Rachel Wagner (Andrew), Richard (Shelby) Fisher, Jamie Fisher, Trevor Fisher (Treasure), Katherine Lautner, and Pilar Fisher. Surviving also are six great-grandchildren, Madison Fisher, Emmett and Calla Fisher, Gavin and Elsie Groth, and Archer Wagner; as well as her brother, Les Turner of St. Ansgar, Iowa, and sister, Edee Boelman (James) of West Union, Iowa.
Flo is preceded in death by her husband, parents, and grandparents, brother Walter Turner, sister-in-law Kathryn Turner, and son-in-law, Timothy Terpstra.
Category:
Mid-America Publishing
This newspaper is part of the Mid-America Publishing Family. Please visit www.midampublishing.com for more information.