Donald "Don" Heikens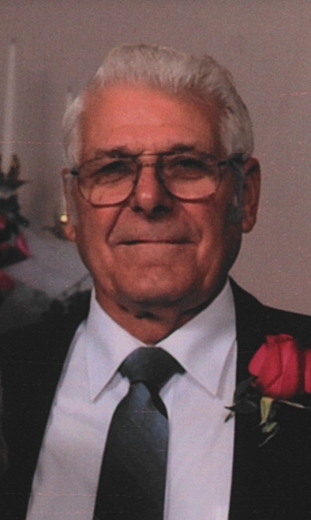 Donald "Don" Heikens, 89, of Wellsburg, Iowa passed away Thursday, Feb. 9, 2023 at Grand JiVante in Ackley, Iowa, surrounded by his family. Funeral services will be 10:30 a.m., Tuesday, Feb. 14, at the United Reformed Church in Wellsburg. Visitation will be held 5 to 7 p.m., Monday, Feb. 13, at the United Reformed Church in Wellsburg. Interment will take place at the First Christian Reformed Church Cemetery in Wellsburg. Anderson Funeral Homes of Conrad has been entrusted with the arrangements. Online condolences may be sent to www.andersonfhs.com.
Don was born July 6, 1933 to Harry and Dena (Hoodjer) Heikens in Grundy County, Iowa. He graduated from Wellsburg High School in 1951. After a brief Army career, Don returned home to Wellsburg and purchased his uncle's farm. On Jan. 11, 1957, Don was united in marriage to Norma Johnson at the First Christian Reformed Church, in Wellsburg. Together, Don and Norma worked this family farm, raising row crops and livestock. In 1977, their farm was recognized as an Iowa Century Farm.
Don was a gifted welder, fabricating many useful projects as well as many "fun" projects. He was known to be able to fix just about anything, making sure it was now better than the first time. This talent later turned into an off the farm job at Omega Cabinetry in Waterloo, Iowa. In 2008, Omega Cabinetry nominated Don for Iowa's Outstanding Older Worker Award. Don retired from Omega at the age of 78. When not farming or fabricating, Don enjoyed family, friends, and fishing. He also looked forward to attending the different activities of his grandkids, rarely missing any of their events. Don was a member of the United Reformed Church, the Wellsburg Community Club and the Wellsburg Amvets.
Don will be missed by his four children; Laura (Ron) Bates of Wellsburg, Douglas (Roxy) Heikens of Steamboat Rock, Iowa, Gregory (Jolene) Heikens of Steamboat Rock, Donita (Jay) Stanley of Menomonie, Wis., 11 grandchildren; Daniel (Liz) Reed, David Reed, Amber Zeltinger, Michael (Ashley) Heikens, Katy Heikens, TaLana (Calen) Holman, Tori (TJ) Johnston, Tanner (Mallory) Heikens, Leah (Heath) Brandner, Luke Stanley, Nate (Amanda) Stanley, three step grandchildren; Jennifer (Sam) Smith, Dewayne Bates, Dustin (Heather) Brown, 17 great grandchildren, eight step great grandchildren, three step great great grandchildren, a brother, James (Linda) Heikens of Ankeny, Iowa, a sister, Bev Hatcher of Marshalltown, Iowa, sister-in-laws, Jean Heikens and Donna Johnson. He was preceded in death by his wife, Norma, great grandson, Derick Zeltinger, step great grandson, Kole Kuker, brother, Marvin Heikens, brother and sister-in-law, Harlan and Pearl Heikens, and brother-in-laws, Kent Johnson and Terry Hatcher.
Category:
Mid-America Publishing
This newspaper is part of the Mid-America Publishing Family. Please visit www.midampublishing.com for more information.