Delores Hauser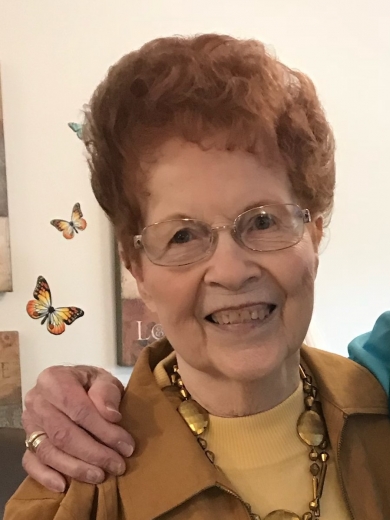 Delores Hauser, age 89, of Union, passed away with family at her side on Sunday, July 31, at the Willows in Marshalltown.
Funeral services will be held at 11a.m. Friday, Aug. 5, at the Whitten Community Church with Pastor Jim Hartman officiating. She will be laid to rest in the Hauser Cemetery – right next door to the place she called home much of her life. Visitation will be held from 5 to 7 p.m. on Thursday at the Mitchell Family Funeral Home in Marshalltown. Memorials may be directed to The Animal Rescue League of Marshalltown. For condolences, please visit www.mitchellfh.com. Ph. 641-844-1234.
Born on February 18, 1933, in Marshalltown, she was the daughter of Clem & Sara (Petticord) Houghton. She graduated from the Marshalltown High School in 1951. She later attended the University of Iowa before transferring to the Iowa State Teacher's College in Cedar Falls.
On Oct. 12, 1952, she was united in marriage to the love of her life, Donald Hauser, at the Central Christian Church in Marshalltown. The young couple made Whitten their home, first on the Sunshine farm established by his grandfather, and then the current home in 1982.
Mrs. Hauser was a faithful member of the Whitten Christian Church (later the Community Church) and the Tryst Women's Club. For the Whitten Centennial, she and Don had the honor of serving as grand-marshals and being "Mr. and Mrs. Whitten."
Left to cherish her memory are her children- Denise (Gary) Lynk of Marshalltown and Dan (Cindy) Hauser of Union; grandchildren- Katy Lynk, Josh (Beth) Hauser along with children Gracie, Jace, Addy, Cecilia, Landry and Myla, Kyle Hauser (Jen McLarney), Megan Hauser (Taylor Simons) and Marcie (Brendan) Happel along with children Paisley and Cason; step-grandchildren- Matt (Laura) Lindberg along with Colton and Aubrey, Erika (Aaron) Nightingale along with Cora, Kyla and Keaton, and Katy (Josh) Siesen; sister-in-law Ann Hauser of Conrad, and numerous nieces, nephews, cousins and friends.
In death, Delores rejoined her beloved Don who passed on July 3, daughter-in-law Rebecca Hauser, parents Clem and Sara Houghton, sister Betty (Robert) Hauser, brother-in-law Dale Hauser, sister-in-law Donna Mae Barnard, in-laws Walter and Gladys (Reece) Hauser, and nephew, Lynn B. Hauser.
Category:
Mid-America Publishing
This newspaper is part of the Mid-America Publishing Family. Please visit www.midampublishing.com for more information.