Barbara Liesener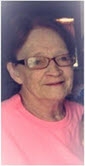 Barbara Liesener, 70, of Eldora, Iowa, passed away on Saturday, Sept. 26, 2020 at home.
Barbara Fiscus was born on November 13, 1949, in Audubon, Iowa, the daughter of John and Edna (Dean) Fiscus. She was united in marriage to Robert Liesener, Sr. in 1979, in Dexter, Iowa, they moved to Eldora in 1990. Barb was a hardworking woman dedicating most of her working career as a housekeeper at various motels. Barb had recently fought through a battle with breast cancer. She enjoyed cooking, working on puzzles, traveling and spending time with her grandchildren.
Left to cherish her memory are her children: Robert Jr. (Karla) Liesener of Parker, Colo.; Vern (Kaye) Liesener of Creston, Iowa; Jeffrey Liesener of Eldora, Iowa; and Rhonda Busch-Harris of Neosho, Mo.; 10 grandchildren and many great-grandchildren.
She is preceded in death by her husband; parents; three brothers and two sisters.
The family will be hosting a Celebration of Life held at Dorothy's Senior Center in Eldora from 11 a.m. to 2 p.m. Saturday, Oct. 3, 2020. Memorial contributions may be directed in her name to her family. For further information or to send a condolence please visit www.abelsfuneralhomes.com. The family expresses their deepest gratitude for your condolences and joining them in this Celebration of Life for Barb.
Visit Abels Funeral & Cremation Service by clicking here.
Category:
Mid-America Publishing
This newspaper is part of the Mid-America Publishing Family. Please visit www.midampublishing.com for more information.